1. What are the advantages of cable-tensioned, fabric shade canopies and shade sails over conventional awnings and canopies?

Cost Savings:
Materials, freight & construction costs are less than other building materials. Unless structures are cantilevered, most water-resistant HDPE shade fabric canopies and sails don't require horizontal beams, trusses, or purlins. Structures arrive at the jobsite already fabricated. There is no onsite welding, painting, or sewing. Areas are available for their intended use faster than other building materials.
Less maintenance: HDPE shade fabric doesn't rot or mildew because the yarns can't absorb water. The only maintenance is to power-wash them at least once per year to remove airborne materials that accumulate between the tightly-knit yarns.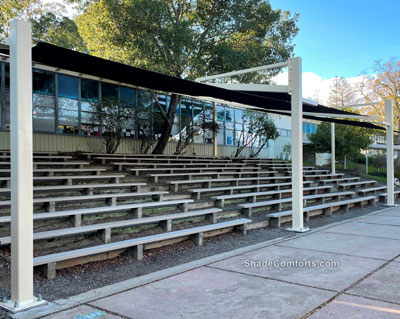 Design Flexibility:
Greater clear span (i.e. distance between posts). For example, we did a structure for Chiquita Brands where only 4 posts support each 42'x52′ fabric. That's 546 square feet per post! No other building material can do this without horizontal beams, trusses & purlins.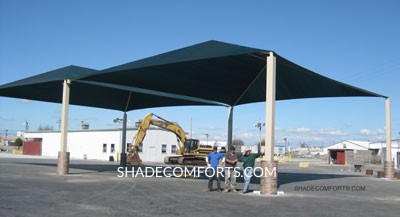 Due to its light weight, shade fabric can cantilever on structural steel beams for considerably less cost than other building materials. Being structural steel, we often erect 18′-20′ beams overhanging parking lots. See cantilever shade structures photos.
Shade sail structure posts can go anywhere that satisfy shading and aesthetic objectives. The structure's footprint corners don't need to be perpendicular because shade sails aren't shaped by ridge beams and rafters.
Cooler Temperature: HDPE shade fabric creates air convection because hot air rises out of the structure between the tightly-knit yarns. This pulls outside air into the structure. The result is that air temperature underneath can be as much as 20-degrees cooler than outside temperature. By contrast, roofs made with conventional building materials are impermeable. Hot air remains trapped inside the structure and accumulates with time.
Aesthetic Appeal: Shade sails win the prize. Cable-tensioned shade fabric enables more unique, organic design possibilities than other building materials.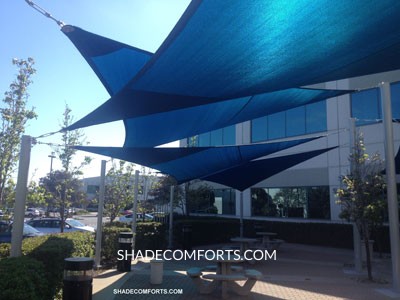 2. How much UV protection do tension fabric shade structures provide?
Up to 97% of the sun's UVA and UVB rays are blocked, depending upon shade cloth color. See sun safety for information about this importance.
3. Are in-ground footings necessary, or can structures anchor to existing concrete slab?
Wind is surprisingly powerful. Yes, in-ground footings are necessary for free-standing structures, and posts cannot be secured to most existing concrete slab.
4. How large are the in-ground footings?
This is only determined during the engineering process. It depends on several factors such as structure type & design; code requirements (e.g. classifications for wind exposure and seismic conditions); soil conditions; etc. In most cases, drilled pier footings are preferable to spread footings. The dimensions for most of our drilled pier footings are 30″ or 36″ diameter and 5′-9′ deep. However, some have been as large as 42″ diameter and 13′ deep. Footing construction costs are a significant portion of total project costs and an important consideration when deciding how structures are designed.
5. Why are the footings for shade canopy and shade sail structures so large?
To counteract the powerful uplift caused by wind. A 70 MPH wind gust exerts approximately 16# of uplift per square foot of fabric that's 10′ high. That's 16,000# if the fabric is 1,000 sq. ft. If the structure has 4 columns, then 4,000# hits the top of each column. The bottom of the columns (a.k.a. "moment") must sustain 40,000 foot pounds.
6. How durable are your cable-tensioned, fabric shade structures?
Steel columns and frames are warranted for 20 years.  They're factory-welded to be watertight and are protected with a powder coat finish. There's a limited 10-year warranty on the HDPE fabrics.  All are designed to withstand 3-second wind gusts of 110 MPH with the fabrics attached.  Our structures meet California Building Code, which is the world's toughest.  They are approved by GSA for use by the U.S. Government.  Finally, many of our shade canopy designs are pre-approved by DSA for use at California's public schools. 
7. What's the difference between cable-tensioned shade canopies and shade sails structures? 
Canopies have upper steel frames to tension shade fabric into various roof styles (e.g. hip, pyramid, etc.). Shade sail structures don't have upper frames.  They only have columns, shade sails and the hardware to attach them and maintain proper tensioning.   
8. Can shade sails and canopy fabrics be removed?
There's no structural reason to remove them unless snow is expected.  A 2-man crew can remove our largest fabrics in less than one (1) hour and reattach them in less than two (2) hours.
9. What maintenance is involved?
None, except for an occasional hosing to remove dirt and bird droppings.  Nothing rusts because our factory welds all structural steel to be water-tight.  It then bakes on a UV-resistant powder coat finish.  When constructing, we caulk all seams where steel members are field-bolted together.  We also caulk behind all washers.  Shade cloth yarns, being made of High Density Polyethylene, won't rot or mildew because they don't absorb water.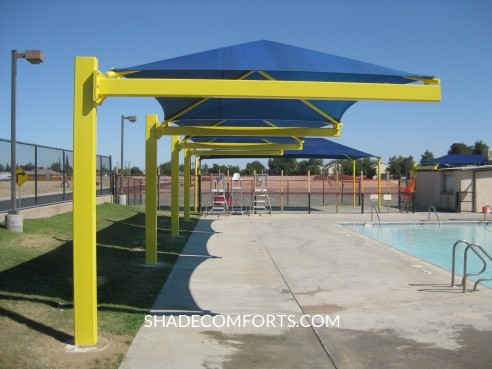 10. Are building permits required?
All California municipalities (and Division of State Architect for structures on public school property) require building permits because permanent, in-ground shade structures are classified as "buildings" when larger than 10'x10′. California has the strictest building codes in the world, and these codes continue to get stricter. Some of the reasons pertain to California's seismic activity, increasing wind speeds, and drought conditions. Only California-licensed contractors can legally build them. Applicants must submit stamped drawings & structural calculations for proposed structures and footings; site plans; etc. to their "plan check" process.
Before construction begins, the permitting authority must verify compliance to Planning and Fire & Safety codes. They must approve the proposed structure's proximity to property lines, easements, existing structures, etc. Structures must meet codes about height & square footage, American Disabilities Act, occupancy classification, aesthetics, etc. Local fire marshals must verify that proposed structures will be safe and that they can protect the public and property if needed. They begin by verifying that fabric is pre-approved by the California State Fire Marshal.
Before construction begins, the permitting authority's Engineering Department must verify that the proposed structure and footings specifications meet code requirements. Design specifications for structures and footings are more-robust when engineered for California building permits.
During construction, inspectors must verify adherence to all conditions of the building permit.
Final inspection is required before the permitting authorities issue Occupancy permits.
11. How much area can your shade structures cover?
As large as can be imagined.
12. What is "clear span?"
The distance between columns.  For example, a basketball court requires "clear spanning" the entire court width. We clear spanned a volleyball court with a 50′-wide hip roof canopy.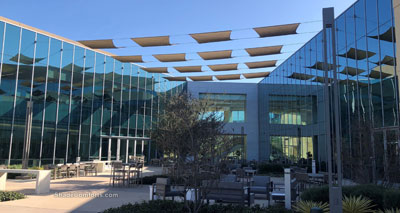 13. Are your fabrics flame retardant?
Yes, all are pre-approved by the California State Fire Marshal, which is required to obtain building permits. They also meet national standards for flame retardancy (i.e. ASTM E84 & NFPA 701), which are less-stringent than those required by the California State Fire Marshal.
14. Are your shade structures waterproof?
No, but our shade fabric is water resistant: 90%+ water sheds during the most intense rainstorms. Only a fine mist passes between the tightly-knit HDPE yarns during these conditions. Rain blows in from the sides anyway because it seldom falls straight down from the sky.
15. For what wind velocity are your structures designed?
110 MPH 3-second wind gusts with fabrics attached
16. What markets do you serve?
Only organizations with projects in California. Our construction team for SoCal deploys from Temecula, which is 55 miles north of San Diego. NorCal and Central Valley projects deploy from Benicia, which is 35 miles northeast of San Francisco. 
17. What services to you provide?
Single-source provider of fabric shade structure design, engineering, fabrication, and construction. We provide shop drawings and structural calculations for structures and footings certified by our professional engineer as compliant with local adaptations of building code. As a California-licensed contractor, we also construct footings and erect the pre-fabricated structures.