(Only if project size > 1,200 sq. ft. & budget > $50,000)
California Shade Structure Contractor
Shade Comforts, Inc.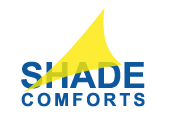 77 Solano Square; #238
Benicia CA 94510
Phone: 707-746-5080
Lic.  #881893,   D.I.R. Reg. #1000020770
NorCal & Central Valley constructs from Benicia, CA (30 miles NE of Oakland, CA)
SoCal constructs from Temecula, CA (55 miles N of San Diego, CA)
Design, engineering, fabricating & building shade fabric structures.