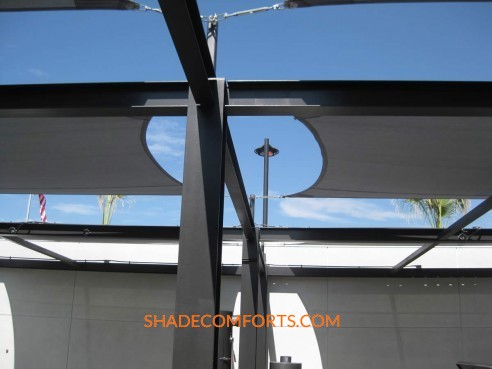 Our custom shade sails keep customers and their cars from overheating in the San Bernardino County sun at the new Fletcher Jones Mercedes-Benz dealership in Ontario, CA.  With fabrics attached, local building code requires they take 110 MPH gusts that Santa Ana winds can amass in this Los Angeles suburb.
We designed, engineered, fabricated, and erected two different structures.  One covers the car detailing canopy to prevent water spots.  Another shades service customers waiting on the front patio.  We worked with Gensler Architects in Chicago on the designs.  Chicago's Skender Construction was the general contractor that engaged us.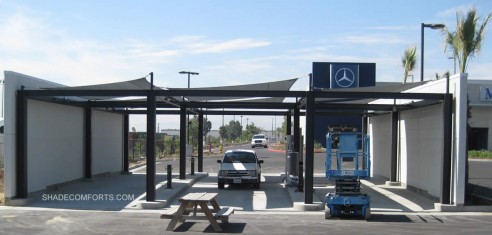 Totaling 1,800 square feet, the auto detailing canopy measures 50′ x 45′.  We tensioned six shade sails atop the structure that others erected.  Detailers keep cool and don't fight water spots.  They simultaneously detail up to six cars that enter the area after washing.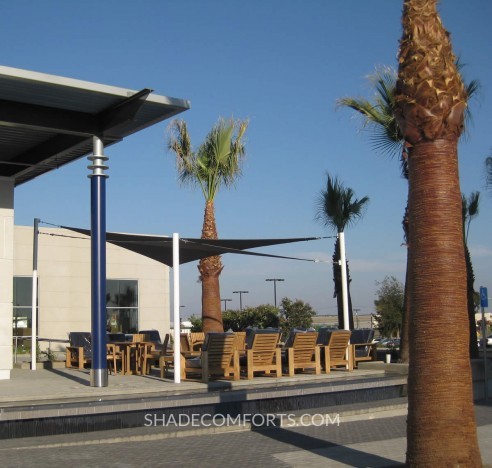 Service cusomers can wait under the patio sails in the shade.  This 4-post strucure measures 15'x22′.
According to Hoovers, Fletcher Jones Management Group, "holds the title as the U.S.'s top Mercedes seller."  The company has two Mercedes-Benz dealerships in California (Newport Beach & Fremont; one in Hawaii; two in Nevada; and one in Illinois.  It also operates eleven other dealership that sell Audi, Ford, Honda, Infiniti, Jaquar, Land Rover, Porshe, Toyota and Volkwagen.
See next fabric shade structure project.