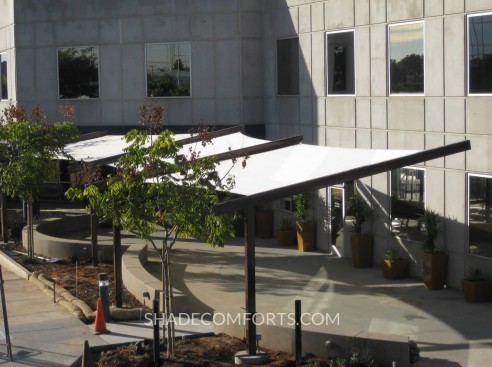 This tensile canopy now shades the cafeteria patio at the corporate headquarters of San Diego Gas & Electric.  The cafeteria serves 2,000 personnel employed in (6) buildings on the campus.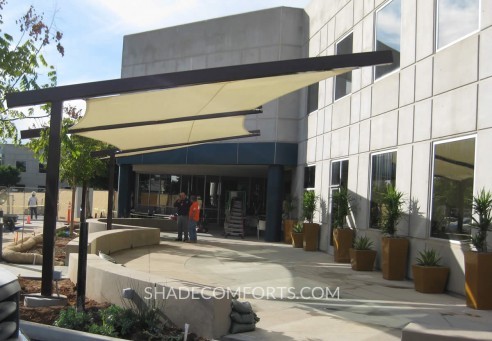 Our sole source solution included design, engineering, fabrication, and construction.  The structure has four columns in a 60′ long serpentine configuration.  Inclined beams cantilever out 16′ feet from these columns.  We factory welded these beams and columns together before baking them together in powder coat ovens.  This eliminated the need for connecting bolts.  The 960 square feet of shade is created by (3) tensioned fabric sails of extra heavy duty HDPE approved by the California Fire Marshal.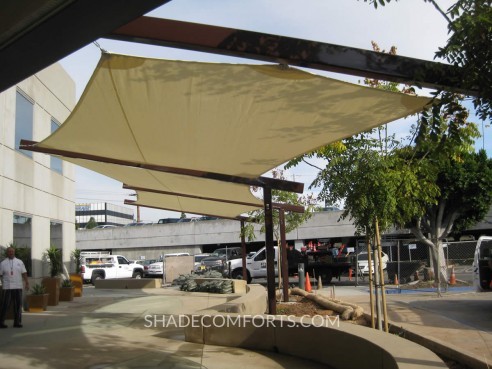 We took these photos in the evening on the last day of construction.  Electricians have since installed lighting.
Our contract required we use only union labor.  So, we hired Ironworkers from the local union for this specific project.
See more California shade structure projects.