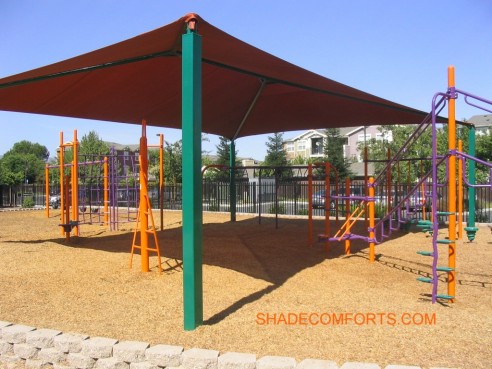 "What good is a playground if it's too hot to use?"
That's what parents at Bethany Lutheran School in Vacaville, California asked themselves.  After all, their kids attended a fine school with a beautiful playground.
But, it gets hot in this NorCal city.  Not unusual for ambient air temperatures to exceed 100 degrees.  The biggest problem, though, is that play equipment got so hot that kids couldn't touch it; let alone play on it.  The playground was significantly under utilized.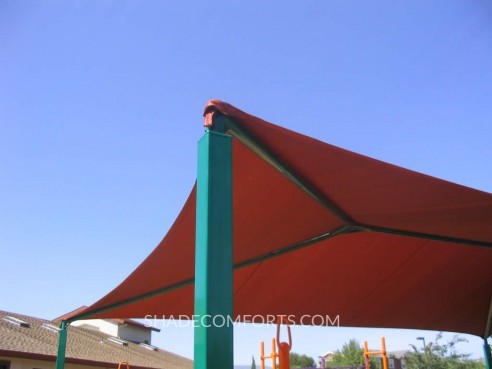 We designed, engineered, fabricated & constructed the new shade cover.  Their new playground fabric shade structure measures 30′ x 40′.  Columns rise 10′ above the play surface; peak height is 14′.
The temperature exceeded 100 degrees the day we put up the HDPE shade cloth.  (We erected the steel on a previous day).  We noticed that air temperature under the fabric dropped immediately.  Although this always happens, it's particularly noticeable on very hot days.
Now the kids play lots more on the playground.  They get more physical exercise and the opportunity to maximize development of social skills.  More can now grow up to become Investment Advisors and support their parents in old age, who made it all possible.  See fabric shade structures home page.