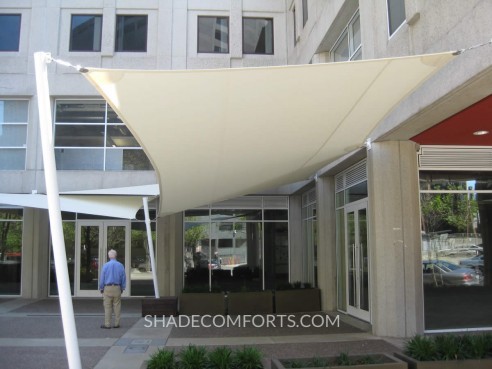 This sunshade sail structure combines the features of both awning and canopy.  Fabrics attach to a building to provide a sun covering, as would an awning.  But, steel posts enable them to project 15′ out from the building like a canopy.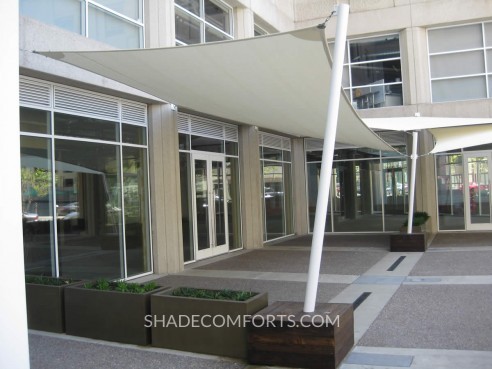 There are three cable-tensioned fabrics on this 1,053 square foot structure.  The sunsails are warped into hyperbolic curves shaping them in 3D.  The outside fabrics are rectangular and the middle fabric is triangular to conform with the building's corner.  The three posts lean 10 degrees away from the building.  We engineered special plates that are anchored to the concrete walls.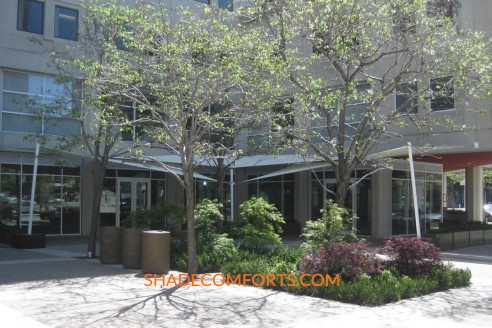 This tensile structure is part of a $multi-million design-build project to renovate a commercial plaza in downtown San Francisco.  Kilroy Realty is the commercial developer that owns the 9-story building that surrounds the plaza.  It leases office and retail space.  Aside from accessing entrances to the building, the plaza is a gathering place for special events like outdoor concerts.  No wonder.  It has a huge fountain, unique sculptures and beautiful landscaping.
See more California shade structure projects.