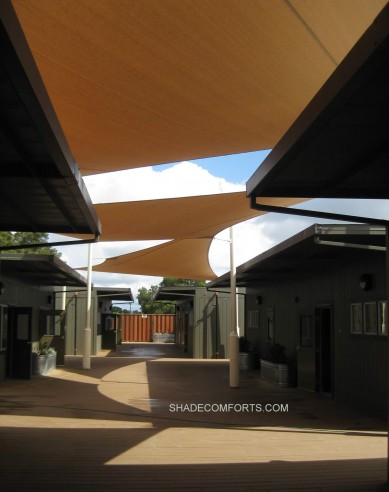 Our shade sail structures and canopies protect children from the sun's harmful UV rays at another California child care center.  This is at Stanford University's new day care center in Palo Alto.  In Santa Clara County, this facility is temporary.  Operations will resume at the permanent, preschool facility upon construction completion of an adjacent parking garage.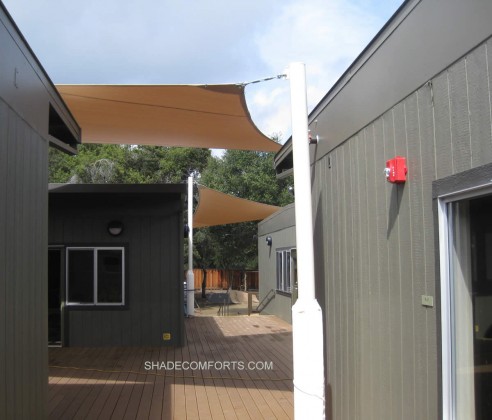 Three shade sail structures cover the wood deck between the temporary classrooms.  One structure has (3) 4-sided fabrics warped into hyperbolic curves.  They are supported by (8) posts, all of which have pole pads to protect the kids.  The two other shade sail structures have (1) triangular sail and (3) posts each.  All (5) cable-tensioned fabrics reach over the roofs of the (6) temporary classroom buildings.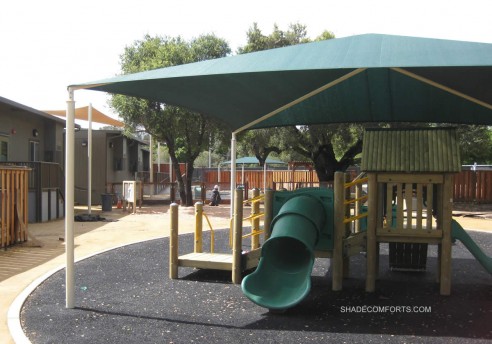 Two 4-post canopies with hip roofs cool two different playgrounds.  One measures 25'x25′; the other 18'x10′.
See more California shade structure projects.