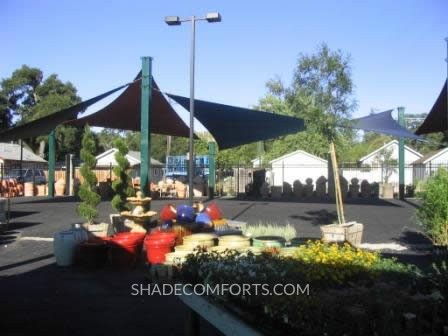 Shade sails cool outdoor retail center.
Do customers prefer shopping outdoors on hot asphalt or in the shade?
That's what the folks at Hometown Nursery in Paso Robles, California asked themselves.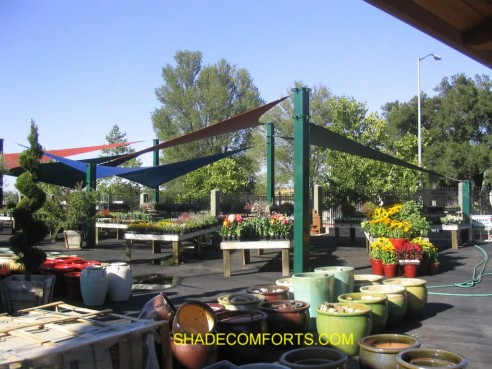 Like plant stock, customers aren't happy when withering in mid-day heat in this northern California community. But, unlike plants, they can leave and take business elsewhere.  However, they'll stick around and enjoy the beautiful sights, sounds and smells of this garden paradise if the outdoor retail area is shaded.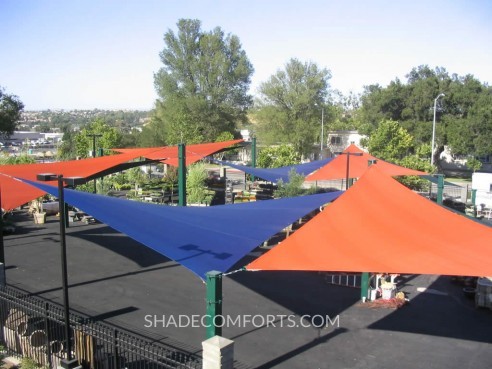 So, we designed, engineered, fabricated, & constructed (2) large shade sail structures.  Together, they shade 5,400 square feet of outdoor retail area.  A total of (16) powder coated steel columns and (10) cable-tensioned shade sails.
The customer wanted the shade sail structures to make a dramatic statement to passing traffic.  So, "variety" was our guiding design principle.  Some shade sails were shaped into 30'x30′ hyperbolic curves with dramatic height differences between adjacent corners.  Some were triangles.  And, we used (3) different fabric colors. Nobody withers any more!
See other California shade structure projects.