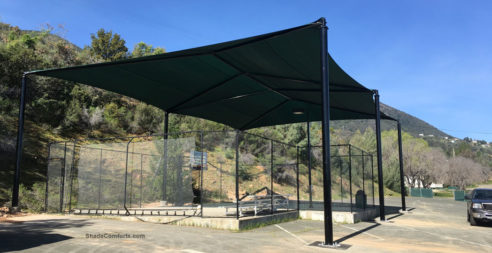 We designed and constructed this basketball court shade structure at Konocti Harbor Resort & Spa in Kelseyville, CA. Among other uses, this Lake County resort also serves as a youth summer camp.
It has a single HDPE shade fabric measuring 66'x43' that is cable-tensioned between (6) structural steel posts. The posts are 20' tall and anchored with underground footings that are 36" diameter. Center footings are 7' deep; outside footings are 5'6" deep. The peak ridge beam is 26' high to enable last-minute "Hail Mary" shots.
It gets very windy in this location, which is in the mountains only a few hundred feet above Clear Lake. Just imagine the tons of uplift during high wind! So, we engineered the shade structure to withstand 110 MPH wind with fabrics attached.