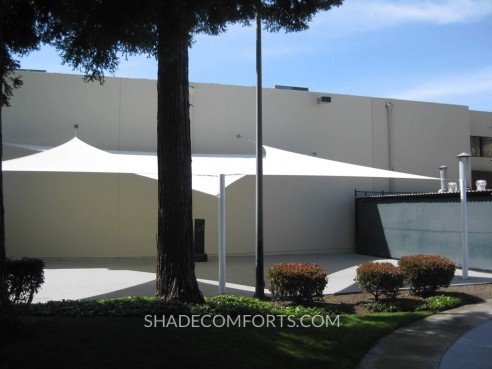 This shade sail pavilion cools the outdoor play area at Decathlon Club in Santa Clara, CA.  Children no longer play on hot asphalt pavement at this Silicon Valley fitness center.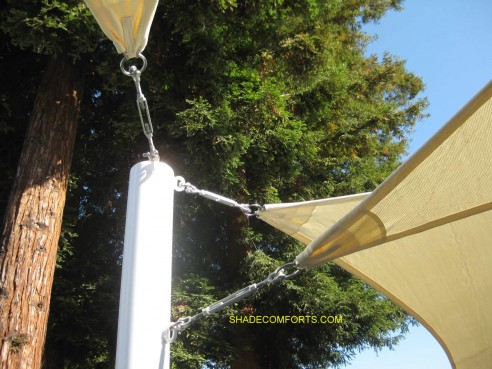 The pavilion shades 2,000 square feet with only (3) columns.  The (3) overlapping, triangular fabrics also attach to the concrete wall across from the columns.  Ten foot long cables extend from this wall to each of the outside fabrics.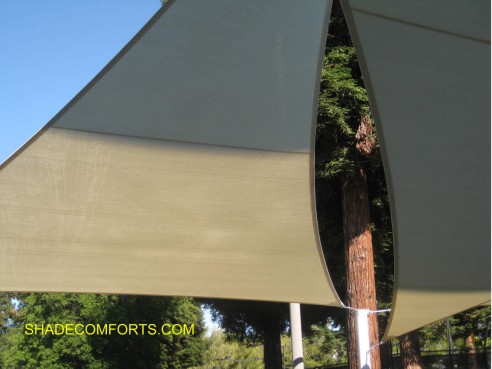 These photos illustrate the quality detail.  All hardware is stainless steel (i.e. cables, shackles, turnbuckles, and the heavy-duty rings at the corners of each fabric).  The shade sails are reinforced with multiple layers of additional fabric and strapping.  The seams are sewn with Tenara UV resistant thread.  The structural steel columns are factory welded for water tightness, primed and factory powder coated.  Being factory welded, no field drilling was necessary that could compromise the water tight barriers.
See more California shade structure projects.