Our sun shelter structures now shade dolphins in their commercial pool tanks.  Did you know that captive dolphins can get sunburned?  That trainers actually put sun block on their snouts to protect them?
Neither did we until contacted by Six Flags/Discovery Kingdom in Vallejo, California.  Turns out that the dolphin handlers at this Northern California amusement park routinely spread the white goop on Greta and her friends.  (Greta was pregnant at the time).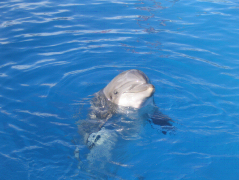 We thought we'd heard it all.  We knew all about the need to shelter people and equipment from the sun.  But, we never expected to construct shade structures to cover dolphins!  They find shade on their own in the wild.  But, pool shade must be provided in captivity.
Talk about a fun construction project!  The trainers let us pet the dolphins.  They're  like puppies.  I resisted the temptation to jump in and swim with them.  (But, only because we would not be invited back if I did).  They show off like little kids.  And tease.  It was amusing how they deliberately splashed us.  Yes, they knew perfectly well what they were doing.  The trainers told us.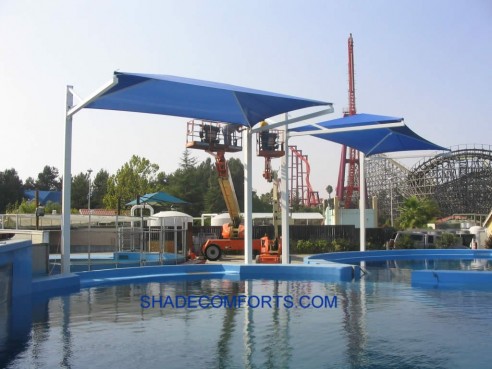 It was interesting to see how they train.  We learned that dolphins test new handlers to see what they can get away with.  Evidently, they instantly recognize inexperience. (Reminds me of parenting, although I never thought to bribe with fish.  It would have been cheaper).
Rising 21 feet above the water, 3 Full Cantilever canopies now shade our new friends.  (A 7 foot long dolphin can jump up to 3 times its body length).  These tensioned fabric structures project 18 feet out from pool edges and are 36 feet long.
One more thing.  Greta routinely splashes salt water on the steel.  So, our normal powder coat finish would not work for her.  Instead, we used 2-part coal tar epoxy.  This finish will last years.  She need not worry about splashing her other visitors, even if they stand next to the steel columns supporting her new sun shelters.
See other California shade structure projects.