Commercial parking shade canopy structures protect employees, customers, cars, trucks, and other vehicles from the sun. These custom carports create covered parking lots for commercial, industrial, and government owners.
These tension fabric structures are the ideal solution where cantilever shade structures are needed.
Off-set posts reduce collisions.
Light-weight fabric enables fewer posts and costs less to fabricate and construct than other building materials.
See photos of cantilever car parking shade structures.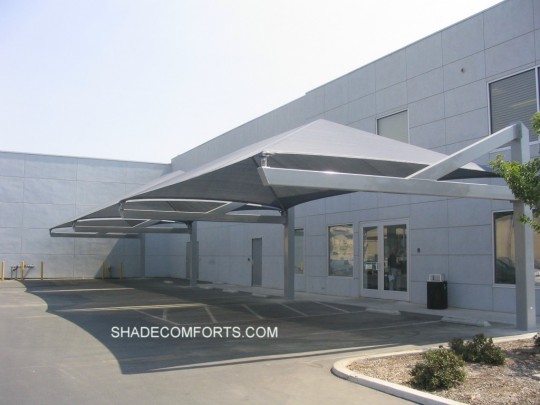 This cantilevered car shelter cools vehicles in the parking lot at a Visalia auto dealer.  We were the supplier and contractor of this car shelter.  These car shelters are ideal for corporate, industrial, commercial, and municipal parking lots throughout California.
See the next parking shade canopy