A commercial, tension fabric shade canopy is not a conventional awning.  It has stationary steel columns and an upper steel frame that shapes cable-tensioned HDPE shade fabric into various roof styles (i.e. pyramids, hips, kites, hexagons, octagons, etc.).  Shade canopies are free standing, permanent shade structures requiring building permits.
Shade sails, by contrast, don't have upper frames.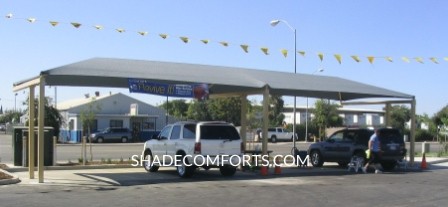 (see Car Wash Shade Canopy photos)
These differences enable a fabric shade canopy to be much larger than an awning and have a bigger clearspan.  Fabric shade canopies can stand alone or attach to other structures, whereas conventional awnings always attach to buildings (usually above windows and doors) and are never free standing.  These features make them desirable for numerous commercial, industrial, & municipal applications where conventional awnings are unsuitable.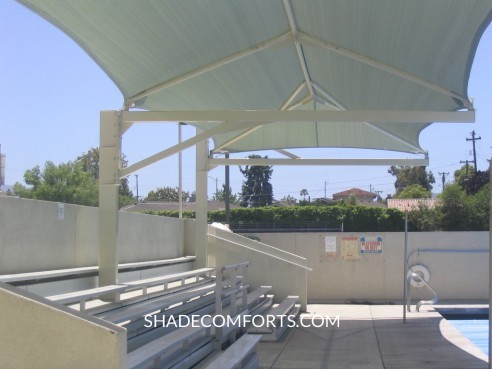 (see Bleacher Shade Canopy photos)
Fabric shade canopies can have full or partially cantilevered beams.  This minimizes the number of columns and enables them to be placed where they won't interfere with traffic or present visual barriers.   Examples include carports, porte-cocheres and bleachers.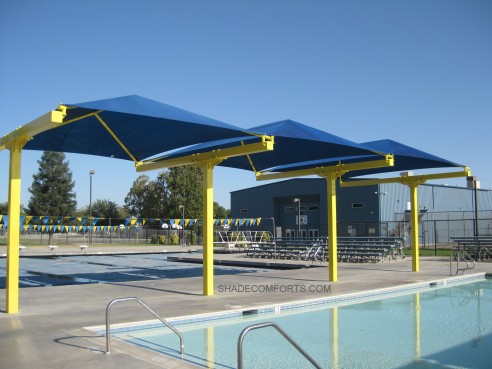 (see Pool Shade Structure photos)
Tension fabric canopies are a cost-efficient way to shade large, outdoor areas.  We supplied and constructed individual fabrics as big as 2,400 square feet!  They're a great way to cool California patios, walkways, pools, playgrounds, car washes, auto dealerships, waiting areas, entrances, parking lots, bleachers, etc.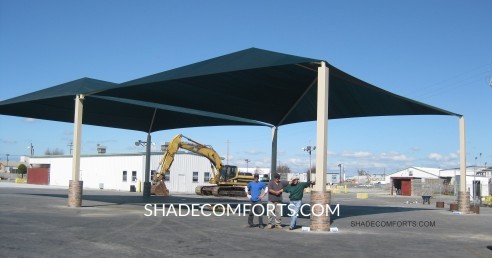 (see Inventory Shade Canopy photos)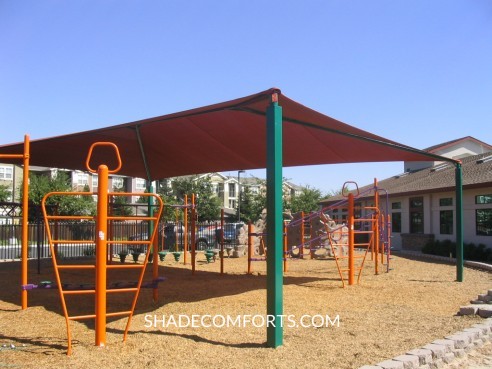 (see Playground Shade Canopy photos)