A commercial tension fabric shade canopy has steel framing that shapes cable-tensioned HDPE shade fabric into various roof styles (i.e. hips, pyramids, kites, hexagons, octagons, etc). Shade sails, by contrast, don't have steel framing.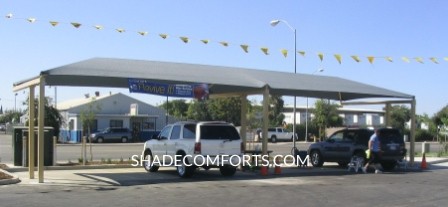 (see Car Wash Shade Canopy photos)
These fabric canopies are permanent shade structures requiring building permits, so we engineer them to local building code. They can stand-alone or attach to other robust structures.
Due to their large clear span capability, fabric shade canopies require fewer columns than structures of other building materials. Horizontal beams can be cantilevered to minimize physical and visual obstructions sometimes caused by columns. This makes them ideal as parking and bleacher shade structures.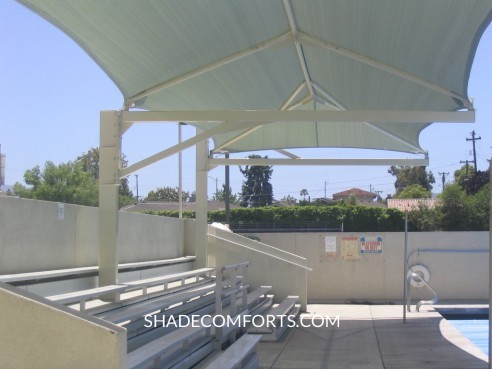 (see Bleacher Shade Canopy photos)
Fabric shade canopies are classified as
Protective Covers (Division 10 73 00) and
Fabric Structures (Division 13 31 00)
in CSI Master Format.
Division 10 73 16 Canopies
Division 10 73 26 Walkway Coverings
Division 10 73 23 Car Shelters
Division 10 73 43 Transportation Stop Shelters
Division 13 31 23 Tensioned Fabric Structures
Division 13 31 33 Framed Fabric Structures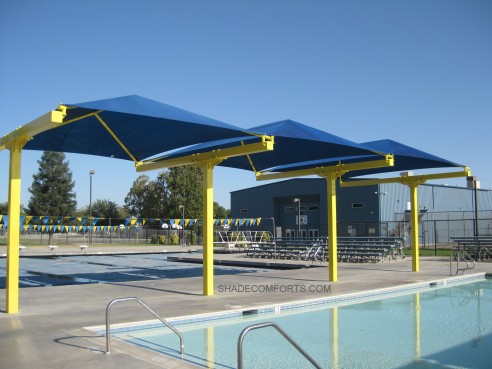 (see Pool Shade Structure photos)
Tension fabric canopies are a cost-efficient way to shade large, outdoor areas.  We supplied and constructed individual fabrics as big as 2,400 square feet!  They're a great way to cool California patios, walkways, pools, playgrounds, car washes, auto dealerships, waiting areas, entrances, parking lots, bleachers, etc.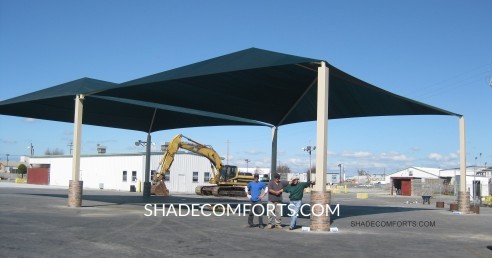 (see Inventory Shade Canopy photos)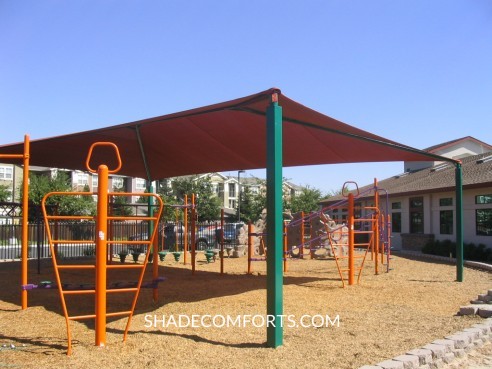 (see Playground Shade Canopy photos)