All shade canopy structures on California public school property (i.e. K-12 and Junior Colleges) must first be approved by the Division of the State Architect (DSA).  This also applies to private day care centers and charter schools on public school property.   The local community does not have permitting authority.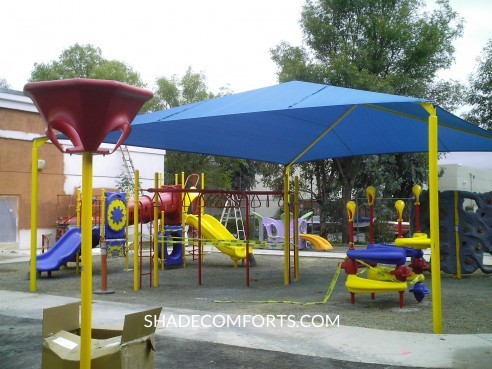 DSA must approve the proposed design, engineering and location.  Special Inspections are also required by DSA-approved inspectors.  These include in-plant welding inspections and on-site inspections of foundations, concrete mix, fabric, etc.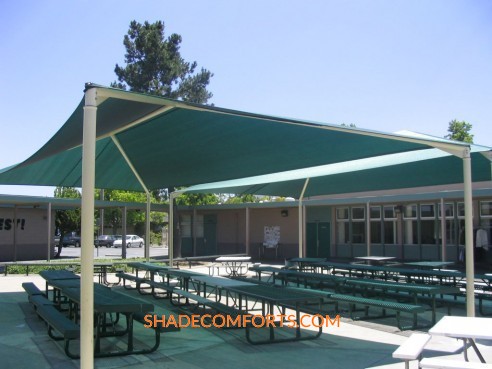 While California's building code is arguably the strictest in the world, DSA's requirements are undoubtedly tougher.  Steel members must be more-robust and concrete piers larger than comparable municipal-approved structures.
DSA will grant building permits for all of our shade canopies, shade sail structures, and shade umbrellas.
However, we provide pre-engineered shade canopies that DSA already approved.  Available with 9′ to 12′ entry heights, they can be configured up to 6,000 square feet by having multiple hip roofs share columns.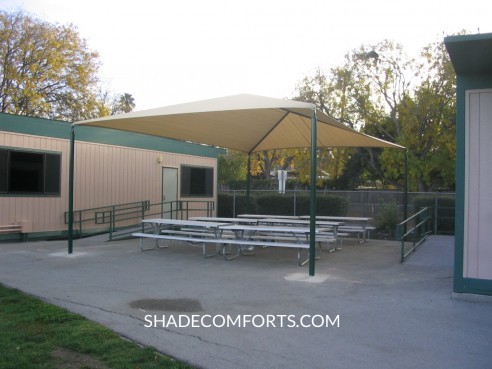 4-columns with 1 hip roof:
20'x15′  300 sq. ft.
20'x20′  400 sq. ft.
30'x20′  600 sq. ft.
25'x25′  625 sq. ft.
36'x18′  648 sq. ft.
30'x25′  750 sq. ft.
40'x20′  800 sq. ft.
30'x30′  900 sq. ft.
40'x30′  1200 sq. ft.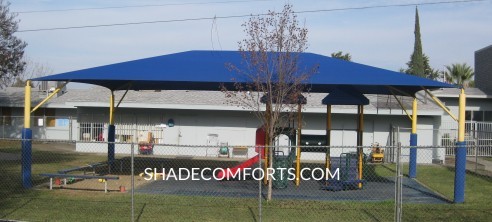 Preapproved DSA structures significantly shorten approval time and reduce application fees.
Shade Comforts assumes singe vendor responsibility for all project phases.  We are NorCAL's premier supplier of preapproved DSA canopies and the construction contractor responsible for their installation and erection.
See DSA shade construction projects.