We're a California designer, supplier, and construction contractor of commercial shade sail structures (a.k.a tensile structures).
Shade sails add architectural flair & block sun.  They're the economical way to permanently cool big areas.  Large clearspans minimize columns and maximize design flexibility because they don't have upper steel frames (unlike a shade canopy).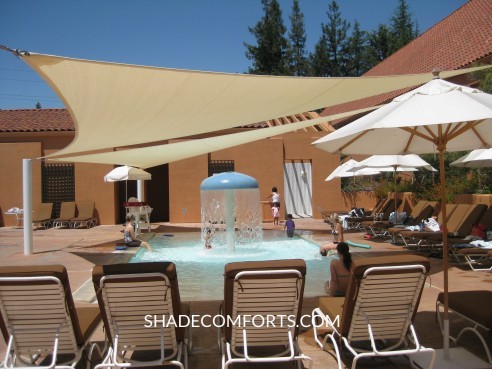 (Pool Shade Sails Structure)
Don't let their good looks fool you.  They're commercial tough with steel cables in perimeter hems to keep them drum tight and prevent wind vibration.  Corners are reinforced with multiple fabric layers and strapping.  We use UV-resitant thread for all seams.  See shade sail specifications.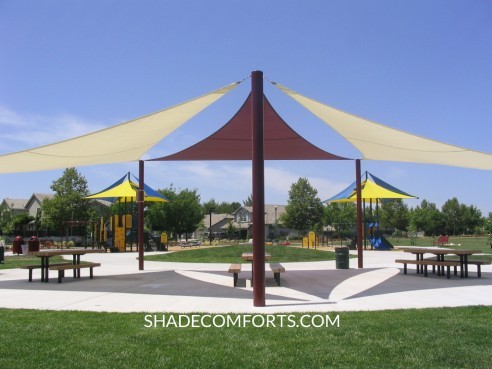 (California Patio Shade Sails Structure)
Commercial shade sails enable maximum design flexibility.  They can attach to buildings yet be considerably bigger than conventional awnings.  Or, they can have columns to be stand-alone shade structures.  The cable-tensioned fabrics can be any polygon shape (e.g. triangles, squares, rectangles, etc.).  There can be multiple sail fabrics of differing shapes and colors.  Sail shade fabrics can overlap.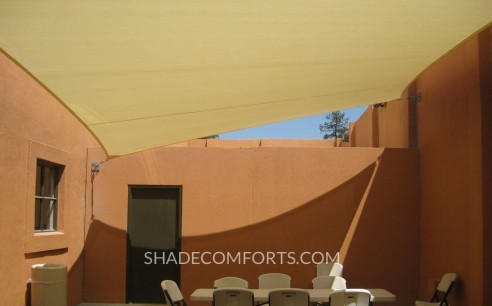 (Santa Clara: See Patio Shade Structure photos)
But the real "wow" happens with hyperbolic curves!  This is done by varying the height of adjacent corners on sails with four or more sides, which warps the fabric into 3D. Sails can attach to buildings or be freestanding structures.
See photos of sail awnings and tensile structures.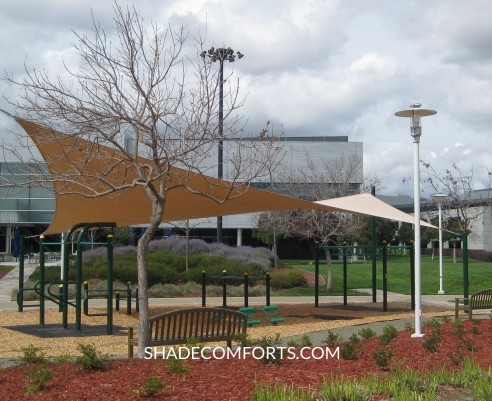 (Silicon Valley: See Employee Shade Shelter photos)
Tensile structures provide permanent shade protection for California institutions.  Regardless of implementation, they make beautiful sun blocks!
Customer satisfaction is assured because we provide single vendor accountability for all project phases including custom design, engineering, fabrication & construction.  See our shade sails design build projects.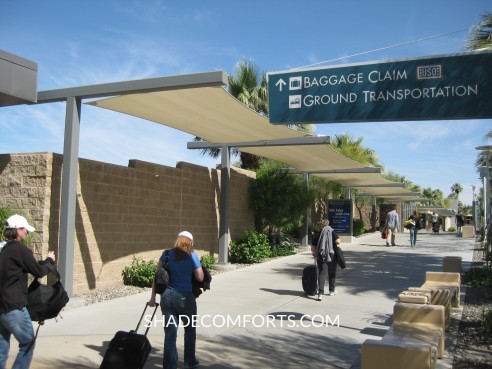 (Palm Springs: See Walkway Shade Structure photos)