Commercial shade sails (also known as tensile shade structures) cover California patios, playgrounds, parking lots, pools, courtyards, walkways, etc.
They're categorized in CSI Master Format
Division 10-73-13 Awnings
Division 10-73-23 Car Shelter
Division 10-73-26 Walkway Coverings
Division 10-73-43 Transportation Stop Shelters
Division 13-31-00 Fabric Structures
Division 13-31-23 Tensioned Fabric Structures
They enhance the aesthetic appeal of landscape architecture projects.  See some of our California shade sail projects and commercial shade sails.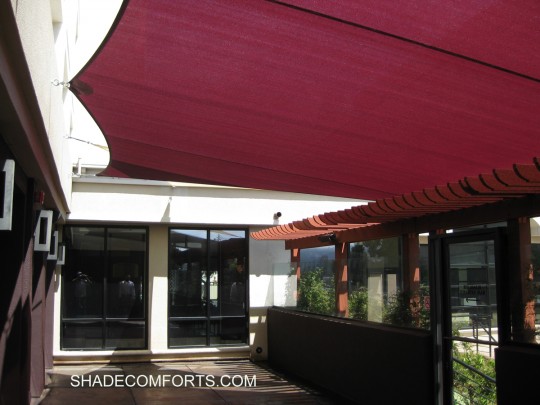 These sail shade awnings cover the outdoor patio at San Francisco International Airport's  Holiday Inn.  There are actually (3) HDPE sails, but only (1) is photographed.
See next shade sail photo