Who Are We?  Why Us?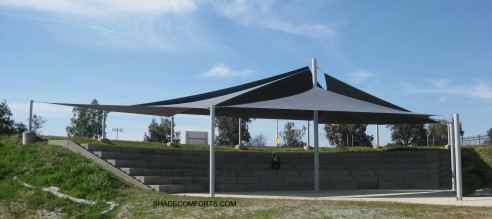 1. Who is Shade Comforts, Inc?
Design-Build contractor of custom, cable-tensioned shade fabric structures for California organizations
2. What's your "Single Vendor Solution?"

site visits to assess needs
custom design
site-specific footings & structures engineering
in-plant fabrication & powder coating
structure shipping & unloading
footing construction & structure erection
warranty servicing
3. Where are your design build services available?
Serving organizations throughout all of California.
NorCal office in Benicia, CA (30 miles NE of Oakland,CA)
SoCal office in Temecula, CA (55 miles N of San Diego, CA)

4. Why entrust my project to you?

Proven premier quality.  See shade structure projects we did!
Specified by top AEC design firms
Single Vendor Solutions ensure satisfaction
CA Contractor (Lic. #881893) Gen'l Building & Awnings
DIR Reg. #1000020770
Better Business Bureau "A+" accreditation
Los Angeles fabricators' license
5. What types of organizations do you serve?
Commercial, industrial, municipal, religious, educational, associations, charitable, state, federal, military, etc.
6. Who has your structures?
IBM Corp.
Chiquita Brands
San Diego Gas & Electric
Palm Springs Int'l Airport
Microsoft
Google
Stanford
California State University
U.S. Navy
U.S. Air Force
Sandia National Labs
University of California
Kaiser Permanente
Sutter Health
Pfizer Rinat
City of San Diego
Radisson Hotel
City of Sunnyvale
Concord Buchanan Airport
California Border Patrol
Chula Vista Design Center
City of San Carlos
Great America
Charles Armstrong School
City of Folsom
Archbishop Mitty High School
City of Manhattan Beach
City of Davis
City of Healdsburg
Golden Empire Transit District
Pacific Gas & Electric
City of San Leandro
County of Alameda
Holiday Inn
Head Start
Kilroy Realty
Rethink Waste
Brehm Sports Park
The Salvation Army
City of Vacaville
Simplot Corp.
Tiburon Peninsula Club
Mercedes Benz of Ontario
Sacramento Municipal Utility District
Finisar Corp.
Abbott Laboratories
City of Shafter
Bright Horizons Family Solutions
Coliseum Public Mkt
Western Athletic Clubs
Emeritus Corp.
Six Flags Discovery Kingdom
The Buckley School
The King's Academy
Marin Horizon School
Rancho Solano Homeowners Assn.
Marin Primary & Middle School
American Canyon Car Wash
Honda of Visalia
Camisasca Automotive Mfg.
Las Positas College
City of Sacramento
Bethany Lutheran Church
San Diego Child. Discovery Museum
The Father's House
Hawk's Landing Golf Course
Marine Mammal Center
City of Petaluma
City of La Crescenta
Good Earth Natural Foods
DoubleTree Hotels
Concorde Career Colleges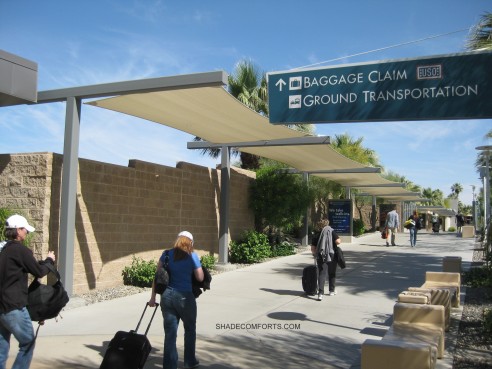 7.  Do you sell structures for customers to install themselves or otherwise engage their own contractor?
No, because this can cause problems.  Who goofed if steel members don't fit together?  Did the contractor construct foundations in the wrong locations?  Or, did the erector do something wrong? Perhaps neither accept responsibility and blame the manufacturer. Such multi-vendor finger pointing leaves customers confused in the middle. Our Single Vendor Solution prevents this.
8.  Do you sell to distributors or ship structures outside of California?
No.  We only provide structures that we construct, and we only do this in California.
9.  What do your structures cost?
Our structures are customized to each unique need. Installed prices depend upon structure design, size and site-specific conditions affecting construction. $20,000 is the minimum project value of freestanding structures. This includes engineering, fabrication, freight & construction. Prices typically range between $16 and $30 per square foot. Due to economies-of-scale, larger structures cost less per square foot than smaller ones.
10. How can I track updates about your company?

Shade Comforts, Inc.
77 Solano Square; #238
Benicia
CA
94510
Phone: 707-746-5080